Currently, the platform is only available in Flemish: www.klarekijkopkanker.be
Cancer disrupts the lives of patients and those around them. After a cancer diagnosis, patients are often left with many questions and are confronted with medical vocabulary, which they do not always understand. Freya Rowaert (43) has been living with cancer for the past 20 years and has become an expert in this matter. To support fellow sufferers with her own experience, she launched the brand-new platform "Klare Kijk op Kanker", with her being the guide for cancer patients and those around them.
Cancer clearly explained
Feel free to consider "Klare Kijk op Kanker" as Freya's true life work. She has been living with cancer for 20 years and had a long-standing dream to provide clear information to cancer patients and those around them: "When I first got ill, I would had loved to receive more information but I had to discover a lot myself. With 'Klare Kijk op Kanker' I want to offer others what I've missed: clear, approachable information with a positive mindset."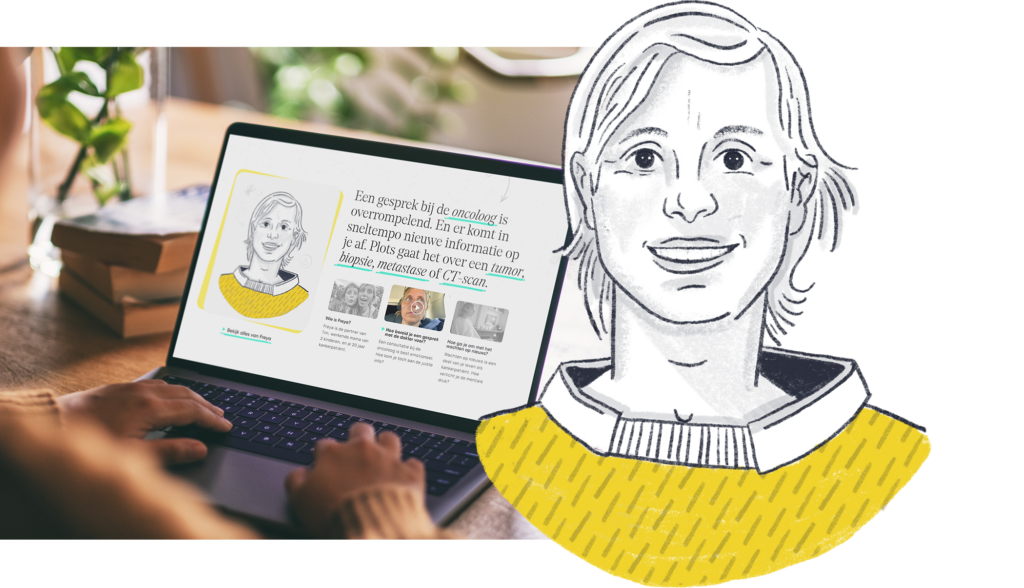 A helping hand
Freya wants to do more than solely providing information. As such, she provides moral support by sharing her own experience: "A cancer diagnosis always comes with a lot of insecurity and stress. With ''Klare Kijk op Kanker' I want to let patients know that those feelings are OK. By sharing what I've learned along the way, I hope to inspire them on how to deal with their own situation. Knowing where you stand might spare you from a lot of insecurities and stress."
Vocabulary and videos
The content on 'Klare Kijk op Kanker' is therefore twofold. Visitors of the website can find a vocabulary of cancer jargon that is explained in a short and clear manner. As such, patients can quickly keep up with the difficult words that they are confronted with upon diagnosis. Furthermore, 'Science watcher' Hetty Helsmoortel will give clear explanations on complex terminology by means of short videos. Finally, patients can listen to the gripping story of Freya's cancer journey and her own tips and tricks. She shares how she learned to talk about cancer with her family and friends, how she prepares a visit to the oncologist or how she deals with the stressful period between examinations and the availability of test results.
A continuously evolving platform
From here on, more and more vocabulary and stories of ambassadors will become available on the platform. These will include other cancer patients with their own stories, but also scientists, physicians and other people in the field. As such, the platform will continue to evolve and bring clarity in the complex world where cancer patients suddenly end up.
Currently, the platform is only available in Flemish: www.klarekijkopkanker.be